Our Kingswood Write Ups!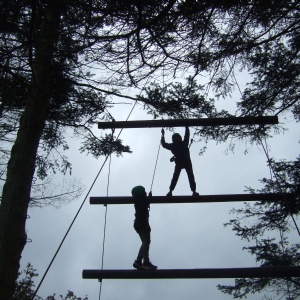 Please take a look at our write ups about all the fun things we did at Kingswood.
Also, click here to view all our photographs.
Kingswood was absolutely stunning! There were so many things to do, you always had something to do and most importantly, everyone had a great time! Some of my favourite activities were abseiling, zipline, quad-biking, buggy- building, archery and so many more! Most people found things scary and didn't want to do things so their confidence bubbles were small and had things like gaming, You-tube, sleeping and pizza in their bubble. At the end, everyone's confidence bubbles were much bigger with things like rock climbing, zipline, quad-biking and much, much more than before. I had so much fun there and I would recommend it to anyone, even if people are not adventurous or if they are a little scared of heights.
By Toby C
Kingswood was amazing because it helped me build my confidence and let me believe in myself more. Every activity was as fun as each other and I'm proud of myself for trying everything.
By Ella W
My favourite two Kingwood activities would have to be aeroball and laser tag. When my group, group 5, did aeroball we were split into groups of 3. Olivia, Mia and I were in a team and we took it in turns to go on the trampoline. Our favourite game on the trampolines was Hot Potato. I managed to stay in the longest.
Laser tag was the very last activity at Kingswood and I think they kept the best until last. My gun name was AngelA. I shot loads of people, but in doing that I died loads of times! Never mind, I still enjoyed it immensely.
I really enjoyed Kingswood.
Lana C
Quotes from the children of Kingswood
I really liked all the activities and all the staff were lovely. Mia
Utterly amazing! I would recommend it to anyone who is adventurous, or to people who want to do lots of stunning activities. Toby C
Kingswood is the best experience I have ever had! Izzy
Abseiling was great, but if you're afraid of heights do not look down! Grace
My favourite activity was the zipwire because I thought it was entertaining and I like heights. Aaron

Keeley (our leader)
Interesting
Not at all bad
Great
Super
Wet (a little bit)
Omm, tasty food
Oh my gosh, I loved the zipline
Dorms (we each have groups) Matthew
INSPIRING. Catherine
My favourite parts were the zipwire, abseiling and the side by side buggies. Toyah
I really enjoyed Kingswood as they had so many challenging (yet fun) activities! Emily
The zipwire was amazing! Gracie
The best activity in my opinion was definitely the abseiling. Leo
I enjoyed the zipwire and abseiling. Jazmyn
EXCITING. Olivia
I really enjoyed the zipwire because it was so long and so fun. It made me feel more confident. Emily
The abseiling was fun because you could control how fast you went. Ella
The zipwire was amazing. At the top you're really nervous and when you jump off you speed like The Flash. Kingswood is so much FUN! Lana
My highlight was the zipwire and the abseiling because the zipwire was so fast and the abseiling was like walking on the floor. Ella
The zipwire was amazing. I loved Kingswood. Apiwe
I like the zipwire. It was so much fun and so high. Summer
My favourite activity was the side by side buggies because it was go karting! Dylan
It was really fun, such an exciting experience. Vishnupriya
It was AMAZING! Jack
Kingswood was fun. Bailey
It was really fun and thrilling (I was very brave). Niinarh