Year 4 OAA Day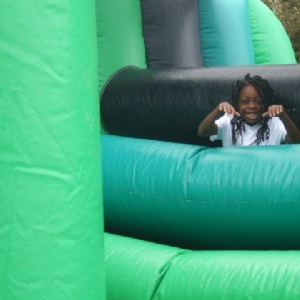 Year 4 OAA
Friday 8th September saw the whole of year 4 in PE kit and outside for a day of OAA. For the uninitiated that means Outdoor Adventurous Activities.
We were all put into groups and given activities to complete. They ranged from working on the low ropes which tested their balance skills to The Terminator, which was a giant inflatable the children had to negotiate at speed. Another game tested their memory and agility. The Spider Web encouraged the children to work together as a team. It's a popular ropes course that is constructed between trees, or on portable or stand-alone structures. In our case it was the goalposts. The objective is to cross from one side of the spider's web to the other without touching the web. The group must create a plan that takes participant physical ability and size to lift, pass, and spot participants in order to get them through.
For this activity the children have to work together to use the ropes to lasso the container and move it to another place. They are not allowed to cross the barrier to reach the container.
Everyone was having a fantastic time and then the Heavens opened and running between the raindrops became impossible as it was coming down by the bucket. The children were not put off at all and continued working at their activities.
Lunch time and everyone refuelled ready for the afternoon session. We all came out in coats but the weather decided that it had had its fun and the sun came out.
Still in our groups we then played a game of Blockbusters. Each group had to complete tasks and cross the board as fast as possible.
Team work was the main order of the day and all the children really tried their hardest.
Everyone had a whale of a time and learnt a lot about themselves and teamwork, some of the quietest children came to the fore with ingenious ideas to solve the problems. Hopefully, they will take some of this into their school work.
Have look at our photos of the day.