Hinduism Workshop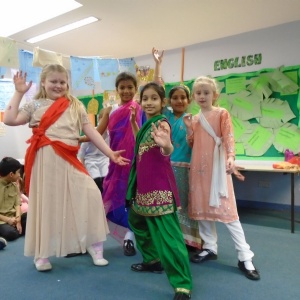 12th January 2018 was Year 4 Hinduism Day. Here are some quotes and photos from the day followed by a recount written by HB7. If you would like to see some more photos from the day, please visit our gallery.
'I have learnt that we are all the same on the inside.' Victory HB6
'I really enjoyed Indri. He was funny,' Remik HB7
'My favourite part of the day was when we did the dancing because I did not know how to dance the Indian way but now I do.' Alex HB5
'I learnt that Hindus have to follow the rules to have fun.' Rohitha HB7
'I enjoyed when we went into the hall because it was very interesting. I learnt that monsoons last a very long time.' James HB5
'I learnt that they have 22 languages and Hindus wear a bindi.' Charlotte HB6
On Hinduism Day, there was a thrill of excitement in the air as everyone was dressed up in beautiful dresses, bright colours, glittering jewellery and anklets. We all entered joyfully and started prancing around. We were having so much fun because we were Bollywood dancing. We all questioned, "Could the next activity be as fun as this?" To our surprise, it was! We heard the story of Rama and Sita and made masks.
After break, we went into the hall with Mr Taylor's class. We had our faces painted, we couldn't believe it! We met Indri, he was very enthusiastic and almost crazy at some points. Indri, who was a Hindu, told us all about the Hindu faith. Before long, it was lunch time.
When we returned to the hall, the whole year group was together. We had lots of help from parents. Thank you so much for coming in to help us. All 120 of us dressed up in saris and turbans and we couldn't have done it without so many adults. Lastly, Krishna and Alexa got married! We learned all about the rituals and morals behind a Hindu wedding.
Altogether, the day was busy, action packed and full of fun. We learned so much about Hinduism. Our favourite parts were the face painting, Bollywood dancing and dressing up.