Bradwell Abbey Discovery Centre - Roman experience day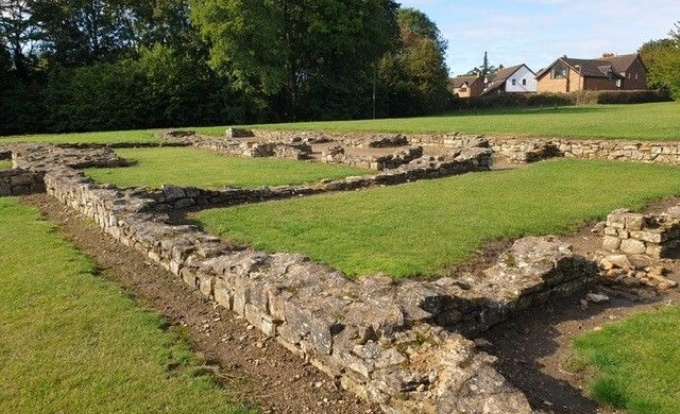 Year 4 experienced life in Roman times at Bradwell Abbey Discovery Centre.
Year 4 had a fantastic visit to the Discovery Centre at Bradwell Abbey. We started off with a lovely walk to the ruins of a Roman villa at Bancroft. The house belonged to a rich retired soldier and even had a central heating system. At the Roman Villa, we enjoyed hearing about the discovery and excavation of the site in the 1970s and seeing artefacts such as coins, pots and tiles. It was interesting to understand how archaeologists use these discoveries to determine how the Romans lived. We met an archaeologist who showed us original Roman mosaic tiles that had been excavated from a nearby site. Holding tiles that were approximately 2000 years old was very exciting.
We enjoyed participating in a Roman banquet in full costume. Some of us were lucky and got to be special guests at the feast whilst some of us were slaves and had to work extremely hard preparing the banquet and serving the guests. Through this we learned about customs, foods and the language of the time. Children were able to act out parts including becoming musicians and being guests at the banquet. Amelie HB7 said it was funny how the Romans laid down to eat and used their right hand only to eat. The slaves made them sick, so they could eat more.
Our encounter with a fully armoured Roman soldier was fascinating. Did you know that a soldier signed up for 25 years service and on average, marched for over twenty miles a day? We had the opportunity to practise marching, handle weapons and shields and perfect our tortoise formation. We even got the chance to battle against our teachers!
Archaeologist Steve, showed the children many local finds. The children might like to revisit the site at Bancroft again with their families or visit the Ashmolean Museum in Oxford which currently holds a Roman exhibition. All in all, it was a wonderful experience and we are looking forward to using our knowledge back at school and continuing with our Romans topic.