Reduce, Reuse, Recycle Homework Project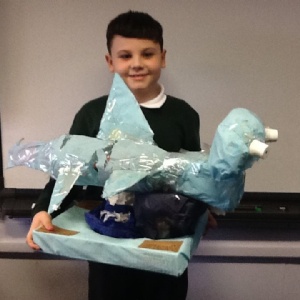 On Friday, children in Year 5 spent time visiting each class to see the results of the children's homework project, set last half term. Each child commented on how blown away they were with the results and secretly voted for their favourites.
The children had been asked, as part of our Reduce, Reuse, Recycle theme topic, to create a sea creature out of reused plastic in their homes. This was to demonstrate how much plastic ends up in the oceans each year.
The winners from each class are now displayed in the entrance area of the school. Please go and have a look!
The Year 5 team are so amazed and impressed with all the hard work that went into each project. It is clear to see how much time was spent, thinking about what to create and the skill it must have taken to put it all together. You can see their brilliant work here.
Thank you to all the children (and families)!