Recycling centre Visit 28/29 November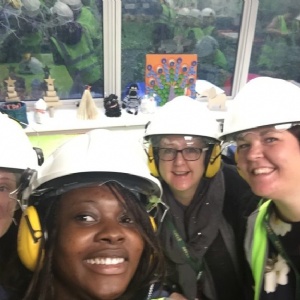 What happens to our rubbish after we place it out for the bin men? Well as part of our Reduce, Reuse and Recycle unit, Year 5 visited Milton Keynes Recycling Centre to find out.
During our visit, Year 5 explored what could and could not be recycled and why, as well taking part in a number of tasks and challenges. These included sorting out rubbish into the correct bins, making bunting using recycled card to spread the message of how important it is to recycle and completing a scavenger hunt.
The highlight of the visit had to be talking through the actual recycling centre and seeing how rubbish is delivered, sorted and processed into large bales. For this, the children had to put on protective equipment, just like the staff do.
It wasn't just the children that took part in the activities. The adults that accompanied the classes jumped at the chance to put on the equipment and walk through the Recycling Centre.
A very enjoyable, yet informative morning for all pupils (and adults) in Year 5.