Viking Day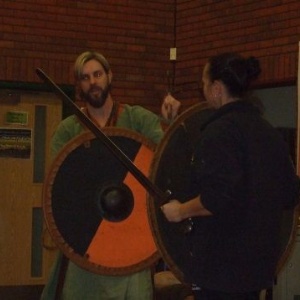 Our Viking theme kicked off with a wonderful Viking workshop on the first day back after Christmas. Bjorn (a Viking actor) visited year 5 and shared lots of interesting weapons and facts about the Vikings. Year 5 took part in different activities throughout the day including stick wrestling, playing board games, exploring different artefacts and grinding grains into flour.
Our day ended with the execution of Miss Brago (she was not impressed) where Mrs Gill along with two volunteers, demonstrated the Viking ritual of 'Blood Eagle.' Ask your children about this horrific event!
Here's what the children had to say about the day:
Dunja "I enjoyed learning how to stick wrestle, as it was loads of fun."
William "I was surprised that the chain mail was so heavy"
Oscar "I learnt that Viking executions were long and full of torture."
It was wonderful to see all the children excited to share what they had learnt at the end of the and ready for this term's work.
More photos of the day can be found on the photo section of the website.
Nana Brago, Year 5 Manager