Rushmere Visit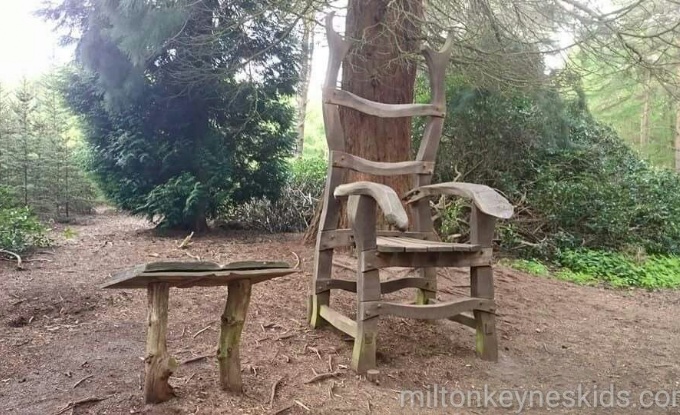 Our post-SATs treat for year 6.
Dear Rushmere Diary,
Today Year 6 went on a trip to Rushmere Park. It was a treat for doing fab during our SATs. Before getting on the coach, we were put into groups. Mrs Gates was the group leader for me and a few others: Elliot, Ellie, Ernest, Ben, Avni, Suruthi, Jess and me.
We, AKA HB15, had a red double-decker, we shared it with HB16. On the top of the coach I was surrounded by my friends and we entertained ourselves.
When we arrived, we got into our groups to check everyone had survived the coach journey. We began to walk into the woods; we saw benches made of wooden logs and little fairy doors.
Our first stop was at a huge wooden chair, fit for the biggest giant. We (HB15) climbed upon the chair and had a class photo. I was at the very top.
We carried on through the woods until we arrived at an enormous gate door; behind the gate were loads of cool dens made from large sticks and twigs. We had the chance to explore and play in the very cool area.
We then continued our walk through the woods and we ended up at a fenced- off field where we were able to have our snack and enjoy a very well-earned drink. I was very lucky as not only did I eat my apple but Irfan shared his Haribos and Elliot shared his sweet cola bottles. It was nice to rest and have a catch up with my friends before the teachers called us to continue our walk around the woods. Some of the boys decided to walk around with a large stick (like a walking stick). Eventually we got to this gigantic hill which we had to climb and it was very tiring but we all managed to reach the top and amazingly we were back where the giant chair was again.
We were gathered in our groups to ensure we all had climbed up the hill safely and in one piece, to which we carried on our walk through another part of the woods. On the way we passed a lake with two beautiful swans swimming around and then passed an enormous metal spider and its web which was pretty cool but scary too.
After some time we arrived back at the start of the walk which was a large field and this is where we sat to eat our lunch. Once everyone had finished eating and replenished their energy, we were allowed to play games of our choice or just have a fun time with our friends. About an hour or so had passed and Mrs Ruggles collected our ice creams and ice lollies. I had the ice cream which was delicious. Mrs Ruggles had a spare ice cream left and there was this little boy around 1-2 years who was playing football with Junior (this was just so cute) so Mrs Ruggles offered the ice cream to the mum of the boy. The boy was so torn between playing football and eating ice cream: this was funny to watch.
Later we climbed aboard the coaches and left Rushmere Park. I had a wonderful time and I'm sure the year 5s next year will enjoy this trip too when they become year 6. By Lana HB15