Our Shakespeare cast go to watch Denbigh's performance of their play!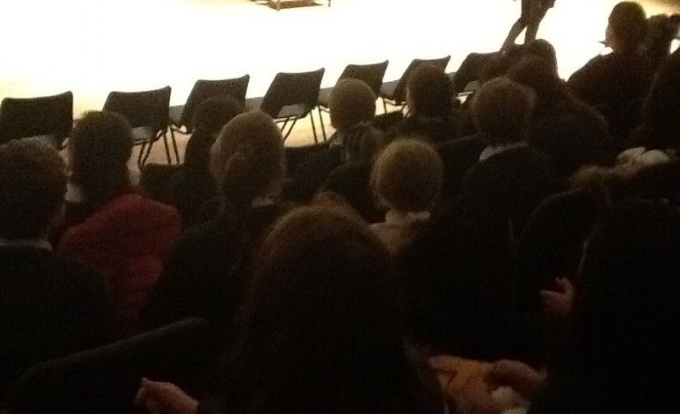 On Tuesday 17th December, the Year 5 and 6 Loughton cast of 'A Midsummer Night's Dream', Mrs Gates, Ms Churchman and Mrs Vernon set off to Denbigh School to watch their Year 7, 8, 9 solely student led performance of 'A Midsummer Night's Dream'!
Despite the inclement weather, nothing could damper their excitement at experiencing a different take on the play that they had so recently performed at the Shakespeare for Schools Festival.
What a treat it was! Brilliant acting and great use of space and lighting culminated in a very amusing and entertaining performance! Bottom's timing and most humorous performance sent waves of giggles through the audience.
The music and lighting were neatly interwoven with the acting and created another level of audience understanding and appreciation.
'I enjoyed Denbigh's 'A Midsummer Night's Dream' performance because I felt like they really expressed their character's feelings and made the play so funny through them landing their lines and their facial expressions' Snehal HB14
'I thought it was really funny and I liked the costumes' Lottie HB14
'I liked how the fairies were also the wood and I also liked the fact that it was a support crew that were only children' Dunja HB14
'We thought that the actor that played Bottom was amazing! They were all confident and clear with what they were saying and we loved the glitter as a prop for the spells.' Amelie and Lyla HB15
'It was a pleasure to be invited to watch the Denbigh performance of A Midsummer Night's Dream; so wonderful to see so many ex pupils! I really enjoyed the choice of music; it worked beautifully with the fairy dancing. The extremely funny moment of the Chicken Dance at the wedding was my highlight – the comedic timing throughout was priceless!' Mrs Gates
'The young actor who played Bottom was brilliant, his sense of comic timing was sensational! All the children in the cast performed so confidently and I was delighted to see so many ex-pupils represent themselves so beautifully – what a pleasure it was!' Miss Churchman
A huge thank you to Mrs Gates and Miss Churchman for their help and support in accompanying the children to the performance and thank you to Miss Ings and the Drama department at Denbigh School for sharing this wonderful performance with us. Finally, an enormous congratulations to all the Denbigh School cast and crew – you were fabulous!
Mrs Vernon
Creative Arts HLTA