Loughton School supporting local homeless charity!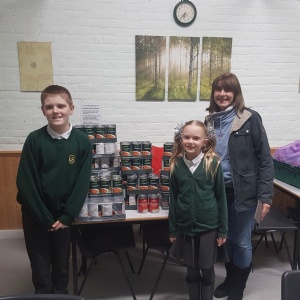 We are very pleased to be able to support the Milton Keynes Soup Run.
As part of our British Values work in assemblies, Mr George had been speaking a lot about the homeless in our area, with particular reference to the tents which fill many of the underpasses in the city centre. Another member of staff contacted the MK Soup Run after hearing one of the assemblies, and Ian and Nicky came in to speak with the children. MK Soup Run provides warm food, sandwiches and small essentials such as toothpaste to those in need, nightly, in the city centre. They were very impressed with the children's compassion and the fact that they wanted to do more.
One of our governors also heard about this from his grandchildren, and managed to source 156 cans of vegetable soup, which is the favourite variety of those who rely on Soup Run. Last night he delivered this, with his grandchildren, to ensure Soup Run have enough supplies for the future. We are very proud to have such generous members of our school family, and know that all of our charitable work helps to raise our awareness of those less fortunate. Thank you everyone.