Christmas window displays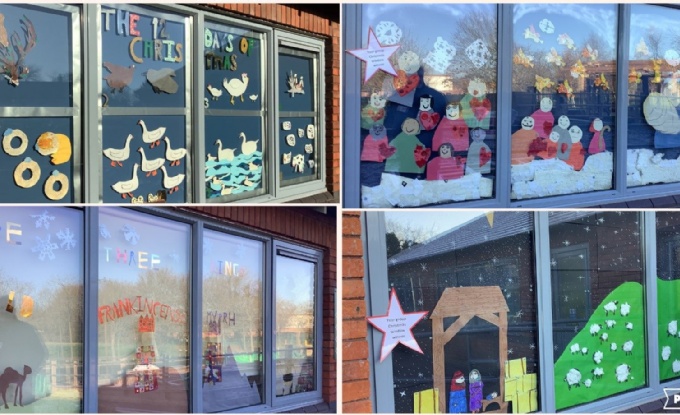 The children have once again worked really hard on their Christmas window displays.
Our chair of governors, Geoff Twiselton, voted the winning window from each year group today, Friday 9 December, on his walk around with Miss Hawkes, our RE champion. They would both like to say a HUGE thank you to all of the children across the school for their tremendous efforts in creating the Christmas window displays. However, there was only 1 overall winner from years 3 and 4 and one overall winner from years 5 and 6. They will receive their prize money and can choose what to spend it on for their treat afternoon in January.
The year group winners are:
Year 3 - HB4 * runner up *
Year 4 - HB6 * overall year 3 and 4 winner*
Year 5 - HB12 * overall year 5 and 6 winner*
Year 6 - HB13 * runner up *
The children will all have the opportunity to look around at the windows during the day and we are looking forward to showing parents, grandparents and other family friends in the Loughton School family our windows after school on Wednesday 14 December.
Please note that Christmas windows will be taken down on Thursday and therefore no parents will be permitted access to view them on this day.
Alternatively, if you cannot make it in person, please do view our Christmas windows clip here:
Backing track courtesy of the year 4 and 5 children's Christmas carol concert.