A seat fit for a King!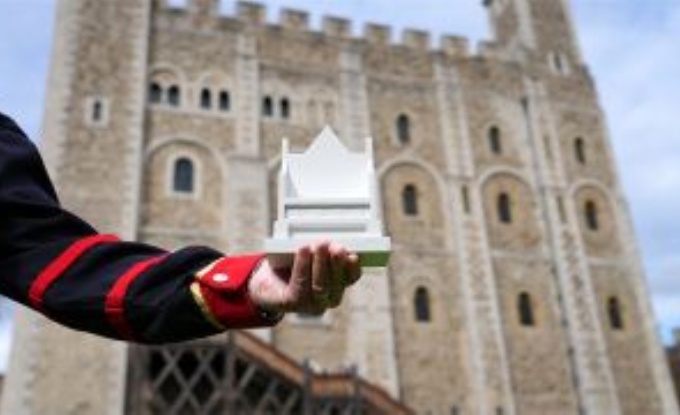 Loughton School chosen to have illustrated bench displayed at the Tower of London during the Coronation
Loughton School has been chosen from over 1,500 entries across the UK to have their own illustrated bench created and displayed at the Tower of London during the Coronation celebrations in May. Taking inspiration from teaching resources developed by Historic Royal Palaces (HRP) – the charity that cares for the Tower of London – pupils at Loughton School have designed their own colourful Coronation benches, around the theme of values for a new era. Children and young people from across the UK were invited to think about their hopes for the future, alongside the symbolism of the upcoming Coronation, and to create their own bench designs as a visual representation of these ideas.
The winning design was created by Penny W, Erin W, Navyaa B Soly K and George F in class HB2. All of the children in HB2 at Loughton School will have the chance to work with global public art producers Wild in Art to refine their illustrations, before their bench is brought to life and installed at the Tower of London during the Coronation celebrations. These students have been invited on a VIP class trip to the Tower of London as a reward for their efforts, where they will see the Crown Jewels, take part in themed activities, and have the opportunity to see their bench in situ.
Just fifteen winners were selected by a panel of judges at the Tower of London, from over 1,500 thoughtful and inspiring bench designs submitted from around the UK. The winning submissions were selected for their imaginative approaches, and thoughtful design. The illustrated designs helped to convey what matters to children and young people today, with themes ranging from unity and peace, to resilience and care for the environment.
In Year 3, the children's topic is currently 'Kings and Queens' learning about British monarchs throughout history so the coronation project fitted seamlessly.
We used the competition resources to refresh our memories on the key symbols and values of monarchs. We then had a discussion about what challenges Britain is currently facing (cost of living, global warming, strikes etc). After that, we thought about how we could represent the new era. These were some of the ideas we came up with:
crown, sceptre and the orb
being accepting of others
celebrating sport
love and friendship
equality and fairness
being charitable
After that, the children hand-drew their designs, working collaboratively in groups of 5 to create their coronation bench.
When the bench is returned to the school after the King's coronation, the children will support us with choosing somewhere it can take pride of place.
Miss Hearne, HB2 class teacher said:
"I am so proud of the children and their efforts with the design. It is such an exciting opportunity for them - we can't wait to meet the artist and see the bench at the Tower of London!"
Ceri Fox, Senior Learning Producer at Historic Royal Palaces, said:
"It was fantastic to have such an overwhelming response from schools to our national competition, and to see so many thoughtful and imaginative designs. Selecting just fifteen winners from so many great submissions was tough, and we are looking forward to welcoming the students and their benches to the Tower of London this summer."
See further updates about this project here: https://www.loughton.milton-keynes.sch.uk/blog/?pid=74&nid=10&storyid=1558
https://www.hrp.org.uk/schools/the-tower-of-london-schools-coronation-competition/winners/loughton-school/#gs.x876a0