Production of Annie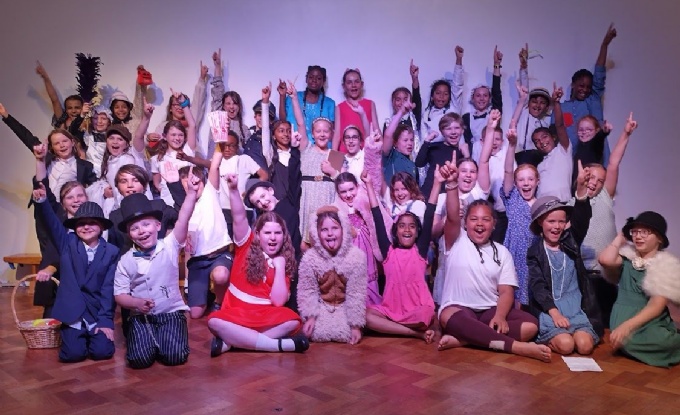 The cast of Annie put on the final show after around 20 hours of rehearsals. They went on an exceptional journey learning performance skills and all about the stage such as standing in the light, facing the audience, making and utilising their props to enhance the performance and how to take direction.
The audience were absolutely blown away with the talent displayed by each child - the singing, dancing, acting and technical assistance were all fabulous!
A HUGE thank you to Mr Whyman and Mrs Vernon for the hours you have dedicated to supporting the children with this performance.
One of our parents said about the show "Thank you to everyone involved for giving the children the opportunity to take part in the Annie production. It was a fantastic show, we really enjoyed watching it, and it looked like the children enjoyed performing it just as much. Congratulations on a brilliant show!"

Due to copyright licencing, we are unable to show any video footage but do please enjoy watching this video of some stills taken from the show!
A year 4 parent emailed us afterwards to say "it is wonderful to relive this fabulous production, but most of all to see the joy in all the children's faces to be up there performing. Thank you so much to everyone at school who made this possible - I can guarantee that my child will never forget the experience of playing Rooster and being part of such a brilliant production, and we are so grateful for that."
A year 5 parent said "I just wanted to say a massive thank you to everyone involved in the Annie production, especially Mrs Vernon and Mr Whyman. Thank you for their endless patience and enthusiasm, not to mention the huge amount of time they gave up. The finished production was so professional and polished, it is hard to believe it was performed by years 4 and 5, it was remarkable. It was really special to watch my child grow in confidence throughout the practice sessions, she loved performing in Annie. Thanks to everyone, it was a fantastic play and you must all be very proud."