Music Festivals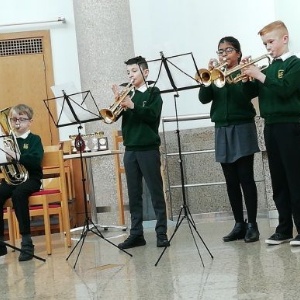 On Monday 4 and Tuesday 5 of March, 18 children represented Loughton School at the annual Brass and Strings Festivals at Christ the Cornerstone Church in Milton Keynes.
This year's festival was a real success with the Large Brass ensemble winning bronze and all the children, whether playing Brass or Strings, were a credit to themselves and the school with their professionalism, enthusiasm and excellent behaviour.
Thank you as always to our peripatetic teachers for all their hard work and support of the children – they really enjoy participating and gaining performance experience. Thank you also to all parents who supported their children with practising!
Please see some more pictures here.