Jack and the Beanstalk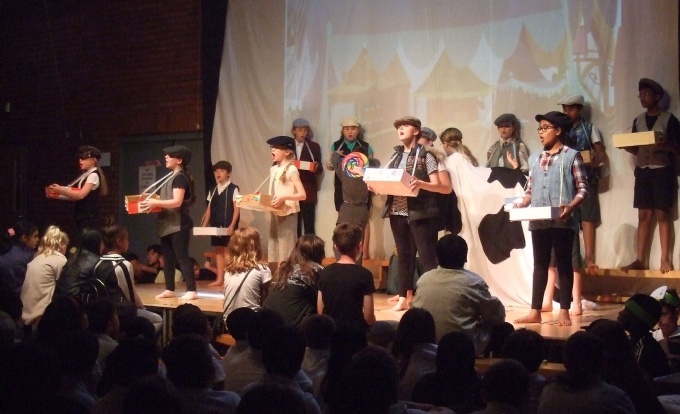 Our year 6 leavers' production.
Year 6 children and staff are still reeling from the great success of their production – Jack and the Beanstalk. Great praise has been given to the professionalism of the production and to the enthusiasm of the children – they certainly looked as though they enjoyed it.
With the help and support from Mrs Laverick and Mrs Woodards, the children were able to give their best in their performances, whether they were actors, stage hands or technical crew. The magnificent singing of the choir was led by Mrs Vernon and Mrs Solloway. Mrs Vernon also helped the dancers choreograph the beautiful cloud/bird dance. The efficient admin team was supported by Mrs Ruggles and the year 6 TAs directed the props crew in their making of the amazing props. It was a real team effort.
It was wonderful to see the audience enjoying the performance, from toddlers right up to grandparents. Many great comments have been emailed to the year 6s from within the school and from parents. Here is one such comment:
'The acting was brilliant and the singing was lovely with such fantastic harmonies, best I have ever heard at a school production. The beanstalk and lighting / production were all so professional.
I'm sure a lot of hard work went in to make this so good. Please pass my thanks to all the staff and the year 6 students. '
Natalie
Well done to all the children and staff of year 6 – you certainly entertained us!
More pictures here.
Mrs Ruggles