Sports day champions!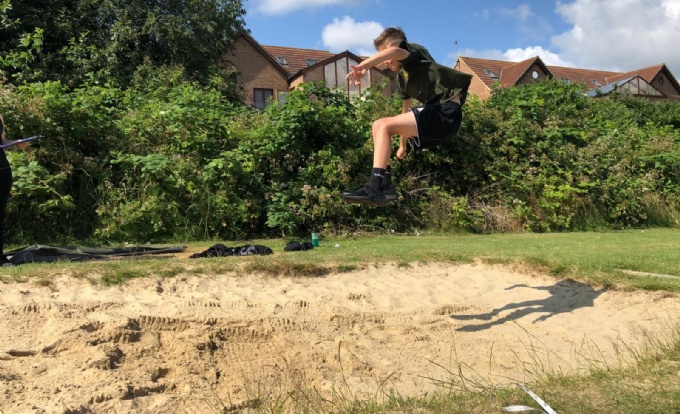 Congratulations to HB4, HB7, HB12 and HB16 who are this years overall winners.
Thank you for all the support from our families on both of our recent sports days. It was lovely to see so many visitors attending to cheer on their child. We are very proud of all the children who took part and the sportsmanship seen throughout the day.
Overall class winners
Year 3: HB4
Year 4: HB7
Year 5: HB12
Year 6: HB16
Below are the individual results for each event. All the children who placed will receive their certificate in a celebration assembly this week.
Years 3 and 4 sports day
Thursday 11 July
Year 3 individual results
| | |
| --- | --- |
| Event | Winner |
| 100m girls | Chloe HB3 |
| 100m boys | Dikachi HB3 |
| 400m girls | Gauri HB2 |
| 400m boys | Theo HB1 |
| Girls relay | HB1 |
| Boys relay | HB2 |
| Tug of war | HB3 |
| Obstacle race | Shay, Alyssa, Shayan, Maryam |
| Girls throwing | Lexi HB3 |
| Boys Throwing | Jaimin HB4 |
| Triple jump girls | Patricia HB4 |
| Triple jump boys | Billy HB2 |
| Long jump girls | Preet HB4 |
| Long jump boys | Rio HB3 |
Year 4 individual results
| | |
| --- | --- |
| Event | Winner |
| 100m girls | Aimee HB5 |
| 100m boys | Harry HB7 |
| 400m girls | Diviya HB8 |
| 400m boys | Caiden HB7 |
| Girls relay | HB7 |
| Boys relay | HB7 |
| Tug of war | HB6 |
| Obstacle race | Oliver, Lily, Poppy, Maisey |
| Girls throwing | Summer HB7 |
| Boys Throwing | Shay HB5 |
| Triple jump girls | Tamara HB6 |
| Triple jump boys | George HB7 |
| Long jump girls | Ella HB7 |
| Long jump boys | George HB7 |
Years 5 and 6 sports day
Friday 12 July
Year 5 individual results
| | |
| --- | --- |
| Event | Winner |
| 100m girls | Aswiya HB12 |
| 100m boys | James HB10 |
| 400m girls | Victoria HB11 |
| 400m boys | Goel HB12 |
| Girls relay | HB11 |
| Boys relay | HB10 |
| Tug of war | HB10 |
| Girls throwing | Toral HB10 |
| Boys Throwing | Kush HB9 |
| Triple jump girls | Tonia HB12 |
| Triple jump boys | Charlie HB11 |
| Long jump girls | Meera HB9 |
| Long jump boys | Matthew HB11 |
Year 6 individual results
| | |
| --- | --- |
| Event | Winner |
| 100m girls | Summer HB16 |
| 100m boys | Miracle HB13 |
| 400m girls | Bailey HB14 |
| 400m boys | Miracle HB13 |
| Girls relay | HB16 |
| Boys relay | HB15 |
| Tug of war | HB16 |
| Girls throwing | Layba HB14 |
| Boys Throwing | Danny HB14 |
| Triple jump girls | Olivia HB16 |
| Triple jump boys | George HB16 |
| Long jump girls | Jashmine HB14 |
| Long jump boys | Xander HB15 |