Zoolab visit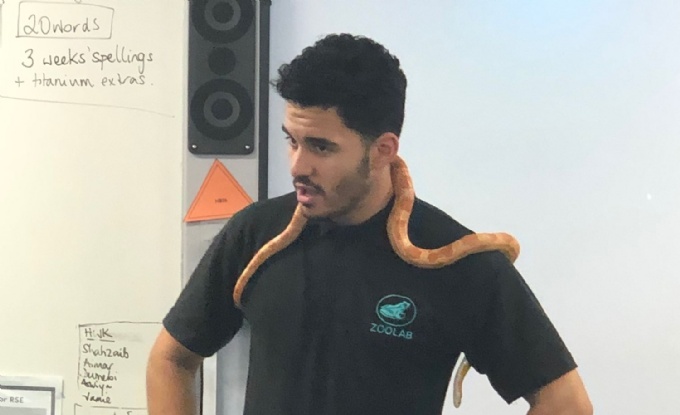 Although year 6 met lots of creatures including a gecko, millipede, cockroach and spider during their Zoolab visit, Kahn the snake was definitely star of the show. Even Mrs Solloway held the snake!
Here are some comments about the day from children in HB13:
On Friday 24th January, we had a visitor from Zoolab who spoke to year 6 about the evolution of different species. We also got to hold them. My favourites were the gecko and the snake as they were both very soft and friendly.
Krisha
Last Friday, Matt (from Zoolab) came in and taught us about evolution as well us letting us old and look at different animals. One of the first to be shown was an African land snail. I learnt that they can grow to be bigger than 10 cm and that they have teeth.
V
When Matt from Zoolab came to visit, we got to interact with different animals. I loved every bit of it from holding a giant snail to holding a lively gecko. Matt was really friendly and he gave us a lot of information on evolution. Overall, it was an enchanting experience and I would definitely recommend it!
Meera
Matt (who works for Zoolab) brought in animals and we were allowed to hold and touch them. We were also taught that an African land snail can grow up to the size of a book and I thought that this was the best animal that he brought with him. We could not hold the spider, nor the frogs because Matt said that it may shoot its hairs at us and that would make us itch for up to a week. Did you know that only the male frogs croak?
Zak
Zoolab was a fun experience because we learnt lots of new things such as the following: did you know there was once a spider that was as big as a car but because of evolution, they no longer exist.
If you are interested in in snakes, spiders and frogs you will really enjoy learning about evolution with Zoolab.
Chloe