World War Two - bread pudding & the Berlin Wall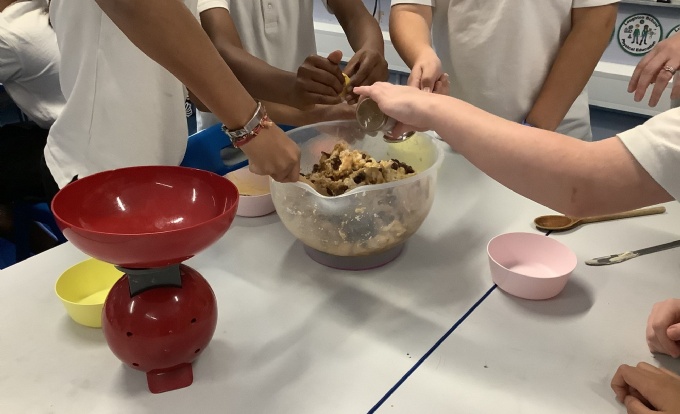 During World War Two, food was rationed and people had to take advantage of the ingredients they had in their households and ensure nothing went to waste. In year 6, we used ingredients that would have been available at the time to produce some delicious Bread Pudding. The children worked collectively, in teams of 15, to organise and share out the different jobs and roles needed to complete the task. They had a fantastic time getting their hands dirty!
It was great to see the children working together and many clearly enjoyed the fruits of their labour and have given us their verdict!
We have also been writing poems this week about the Berlin Wall. These poems by Oliver in HB14 and Harun in HB13 really demonstrate how well the children have understood the themes behind the story we read and also the atmosphere at the time. Well done Oliver and Harun!
A wall went up and split the city.
Everyone thought it was a pity.
Tunnels, ziplines, even swimming but the Easterns weren't leaving.
The outrage spread wide,
Even more people tried,
Even more people died.
The guards patrolling it were to fear
But one thing was sure, the end was near.
by Oliver (HB14)
In 1945 Berlin was split.
Divided.
West was happy.
Free.
East was limited.
Caged.
If people tried to cross.
Killed.
In 1989 the wall was taken down.
Freed.
By Harun (HB13)