Maths
At Loughton School, we believe that every child can achieve in mathematics. We teach the children in mixed ability classes using a 'mastery' approach using Power Maths as a coherent tool to allow children to revisit prior learning, build upon knowledge and ensure every child has a deep understanding within each mathematical concept. We want every child to leave Loughton school enjoying maths, developing a set of mathematical skills that they can build upon in their future education.
Our maths champion is Mrs Charlie McNeaney who is supported by a wider maths team.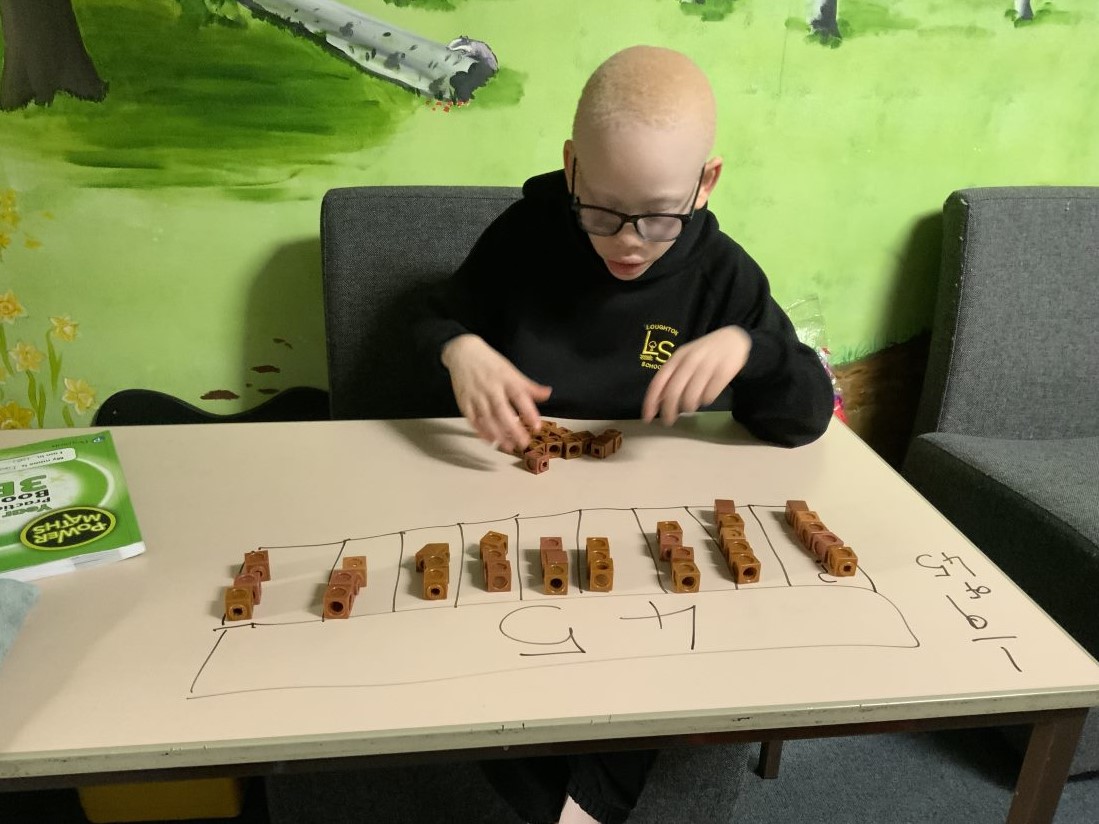 Please select a link below for subject booklets and useful information:
Maths Terms
In line with the 'mastery' approach to the National Curriculum, it is important that the correct mathematical language is being used to support children's learning. The NCETM has developed a thorough glossary of terms to support understanding and shows by which point in their learning (either KS1 or KS2) they should be familiar with these terms.
"Using correct mathematical language is crucial for thinking, learning and communicating mathematically. Children may build knowledge through remembering information that they hear, but it is only when they put these ideas into their own words that it becomes clear whether concepts have been learned effectively.

We need to encourage children to explain what they are doing and why they are doing it. We must offer them opportunities to use mathematical language frequently, for example by participating in paired activities, group discussions and games as well as other dialogues. This will help children to learn new vocabulary, to use words they already know more accurately, and to express new ideas and new thinking.

For children to participate effectively in mathematics lessons, they must acquire the appropriate vocabulary to enable them to explain their thinking and make progress in different areas of mathematical knowledge."

Rising Stars, Mathematical Vocabulary for the 2014 Curriculum
Understanding Written Methods of Calculations
At Loughton we believe every child is a mathematician. The National Curriculum requires children to master the skills of mental calculation as well as efficient written methods (+, -, x, ÷). These are essential tools to effective problem solving, reasoning and mathematical explanation. In order for parents to support their children's learning, the four short videos below explain how we teach written methods. We start with expanded methods so that the children understand what is happening with the numbers and how they are being manipulated. Eventually, when they are confident we move the children on to the shorter, more traditional methods. Written methods are taught alongside a growing awareness of and confidence using place value and the number system.
Have a look at this 'how to' video for long division: https://youtu.be/8CIU6wUeybI
Year 4 multiplication tables check:

To support the learning of times tables, we have a school subscription to Times Tables Rock Stars (TTRS). Please ask your child to check with their class teacher if they are unsure of their log in details. More information for parents can be found here: https://www.youtube.com/watch?v=UKZRIshOazE
Loughton School percentage of children scoring 25

Mean average score of Loughton School

National mean average score

National percentage of children scoring 25

30%

(35 children)

20.25

19.8

27%
*Official statistics for 2021/2022, available from: https://explore-education-statistics.service.gov.uk/find-statistics/multiplication-tables-check-attainment/2021-22
Please see this link for more information about the end of year 4 multiplication tables check: https://assets.publishing.service.gov.uk/government/uploads/system/uploads/attachment_data/file/1116420/2023_Information_for_parents_Multiplication_tables_check_Nov_22_PDFA.pdf